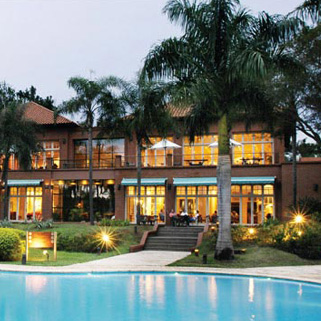 PROPERTY FACT SHEET
Iguazú Grand Hotel and Casino is located on Ruta 12 on the northern border of Argentina. The resort city of Foz, Brazil is a few minutes away. The hotel and casino is located in the area known as the Three Frontiers and is home to Iguazú Falls, one of the grandest falls in the world. Iguazú is a five star hotel with 33 table games, 124 slot machines, a semi-private gaming room, 60 suites, 3 restaurants and twenty-four hour room service, 2 bars, 2 full service banquet halls and a disco. The casino opened in July 1994 and the hotel opened four years later.
CASE STUDY
The property was consistently losing money and was not expected to make a profit in the near future. To further complicate matters, the President of the Property resigned during our engagement. The Ogden Corporation had decided to put the property up for sale and needed an improved, profitable operation to obtain the best sales price.
Navegante was contracted to assist the owner in improving the property's operational performance and cash flow. Navegante completed a comprehensive gaming and operational assessment encompassing all departments, and a three-year business plan outlining the goals and strategies necessary to optimize the effectiveness and the efficiency of the overall operation. The assessment focused on business strategy, casino credit, the junket business, table games and slot operations, security and surveillance operations, casino cages, hotel operations, food and beverage operations, as well as finance and administration. In order to evaluate the competition, Navegante also visited the Conrad Casino in Punta del Este, Uruguay, Casino Acary in Ciudad del Este, Paraguay, and a number of the better hotels in and around Foz, Brazil. Navegante made a series of recommendations to enhance cash flow and improve the value of the Property better preparing it for sale. The recommendations focused on casino operations, marketing, financial accounting and surveillance. In addition a Navegante executive accompanied a potential buyer to the Property providing due diligence and sales support.
Navegante recruited experienced casino executives to provide ongoing support to implement the recommendations. Within a short period of time, Navegante replaced and recruited a new General Manager, Vice President of Casino Operations, Director of Player Development and a Surveillance Director utilizing CasinoRecruiter.com. The General Manager continued improvements at the Property which increased its revenue and profitability. This led to a sale of the Property at a sales price highly acceptable to the owner, Ogden Corporation.